TRAP TURNER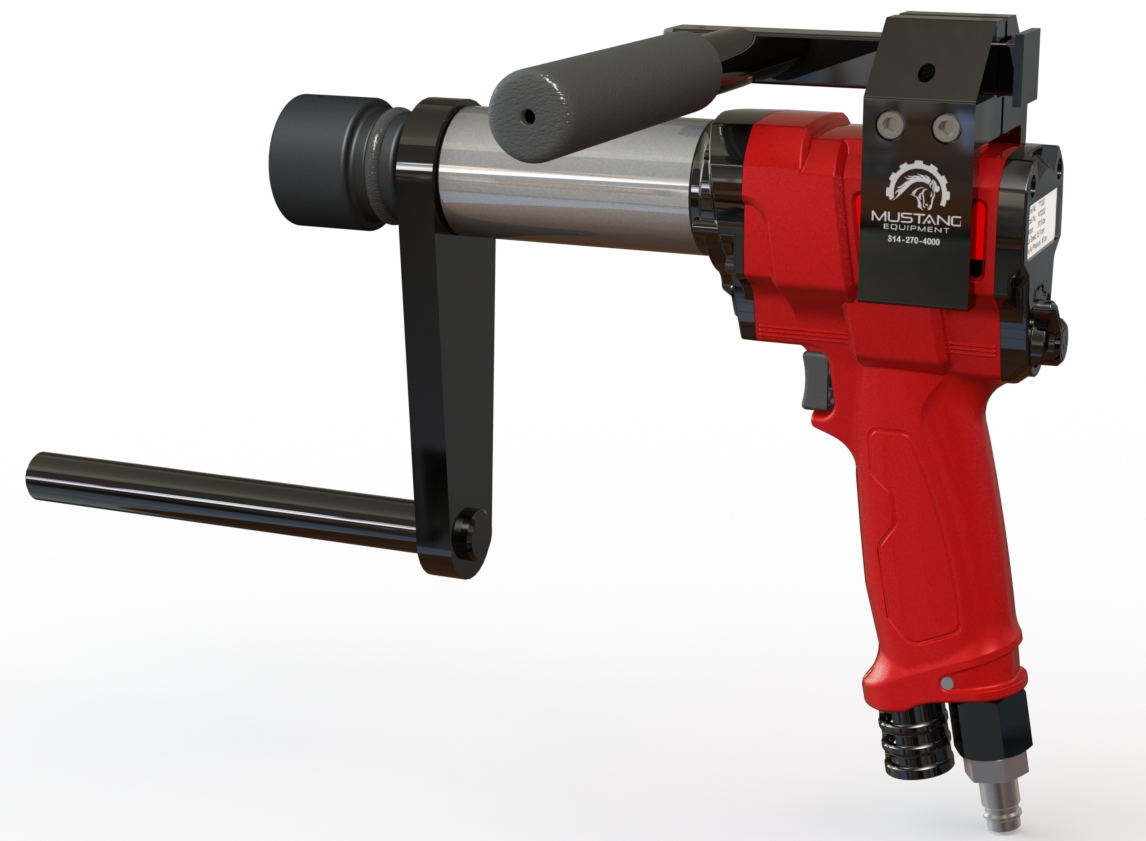 Introducing the new Trap Turner from Mustang Equipment
A product of over 18 months of field trials, the Trap Turner delivers results when it comes to opening grain trailer traps in a fast, easy and safe manner. The only tool developed exclusively for the grain industry, in conjunction with grain industry professionals whereby operators are protected from the hazards associated with opening grain trailer traps. Our customers have reported everything from shoulder and back strain to hernia injuries associated with manually cranking grain trailer traps. In order to reduce operator exposure, we needed a tool that possessed the following qualities: no torque transferred to operator, non-impacting/quiet operation, lightweight and ergonomic. After extensive field testing and feedback from operators, we were able to accomplish our objectives. The Trap Turner from Mustang Equipment gives operators a tool that provides a faster, easier and safer way to open grain trailer traps. Contact Mustang Equipment today to place your order!
Are you still opening trailer traps by hand?
Its time to change your unloading process.
The Trap Turner provides a more efficient, safer way to unload your commodity trailers. Eliminate sore backs and shoulders. Reduce employee fatigue and avoid injuries with the pneumatic, non-impacting Trap Turner by Mustang Equipment.
The Trap Turner is a powerful and compact tool that will increase your unloading efficiency as well as help eliminate worker fatigue and injuries. It is a light weight, non-impacting pneumatic Opener that provides maximum torque in a minimal size. It weighs only 15lbs. Its compact frame is easy for operators to handle all day long.
NON-IMPACTING
The unit is non-impacting which means it is quiet, smooth and easy to handle. The use of a reaction arm keeps the operator from having to counter the torque created by the unit. Your operators will not be become fatigued from rough operation or having to fight the torque the unit produces.
FULLY ADJUSTABLE TORQUE
At 370ft lbs the Trap Turner packs a punch…but only when you need it. The unit's fully adjustable torque allows you to set the maximum torque to where you want it. What happens when the unit reaches its torque setting? Nothing. It simply stalls and stops turning. The operator fully controls the amount of output torque the unit produces. By adjusting the pressure regulator the operator can set the torque anywhere between 74ft-lbs and 370 ft-lbs. A chart provides the torque value corresponding to the pressure setting. Torque/Pressure values are established, repeatable and are provided on an handy reference chart.
ADAPTABLE TO YOUR OPERATION
The secondary stabilization handle can be positioned for left, right or vertical operation. Use whatever position works best for your operation.
The Trap Turner is provided with a base fitting that fits the majority of trap operators. Quick change adapters are also provided for 3 of the other most common operators. We have found that operators seem to vary by geographical region. If you have a need for a special adapter, you can make (or have Mustang Equipment make) a custom adapter to suit your needs.